Me and my boys in the press...
Horse & Hound, 5 October 2017
Dressage South-East
Step Aside, West Sussex
Tracey May rode her own 11 year old Gelderlander, Alfero, to a 67.5% debut advanced medium victory
by Celia Cadwallader
"He made me feel like a dressage rider, even though he's not designed for the job," said Tracey. She added: "I enjoyed sitting on 'Alfie's' back because it felt like a lovely trampoline. If I wasn't able to lift his back, he would just go up and down like a cart horse, which isn't dressage. "Training horses to lift their backs has become my speciality. I've learnt so much with Alfie about lifting the core and hindleg engagement. "I've had fantastic lessons with Stephen Clarke at Training the Teachers of Tomorrow, where he might say, 'Do one shoulder-in, then stretch him down', 'one haunches-in and then stretch him down'."
Horse & Hound, 27 February 2014
Regional Highlights South
by Helen Triggs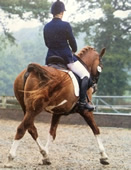 TRACEY LAWSON set herself a goal of achieving a score of 70% at medium level by the spring. But at Snowball Farm, Bucks (10 February), she and Alfero exceeded expectations to score 75% in the medium qualifier. Alfero is by the Dutch driving horse Sander and Tracey has been training with Lindsay Jenkins, who has helped the pair up their game. "Alfero is very energetic but does not have natural engagement and he can become very hectic," said Tracey. "Lindsay's helped me to get more harmony and to be more fluid going into the movements."
BRITISH DRESSAGE MAGAZINE
ESPAYO NATIONAL DRESSAGE CHAMPIONSHIPS 2013
Stretch & Flex Elementary Restricted
Top Ten
| | | |
| --- | --- | --- |
| 1 | Daisy Coakley with Cleopatra II | 73.23% |
| 2 | Daisy Coakley with Bing | 69.79% |
| 3 | Rebecca Kingswood with Aramis I | 68.54% |
| 4 | Rebecca Haryett with Bjornsun | 66.88% |
| 5= | Tracey Lawson with Alfero | 66.67% |
| 5= | Charlotte Gilder with Strathmore Apollo | 66.67% |
| 7= | Marsh Webb with Sattins Rosario Royale | 65.73% |
| 7= | Anna Lawson with Carentino Z | 65.73% |
| 9 | Regula Stricker with Pimmento | 65.63% |
| 10 | Cheli Lear with Zenith IV | 65.63% |
Horse & Hound, 15 August 2013
Central Regional Championships
by Emma Sewell
Addington Manor EC, Bucks (9-10 August)
Also reaping rewards of hard work was Tracey Lawson, who posted the top score of 71.56% in section B of the elementary restricted championship. "Alfero was very spooky, nervous and cheeky as a youngster", said Tracey, who bought the eight year old Gelderlander when he was four. "I didn't think he'd be brave enough to go large round an arena, let alone win at the regionals!". Good training and a product called Cool, Calm & Collected from Equifeast has helped Alfero. "I was busy smiling and enjoying myself in the first third of my test, then suddenly I remembered I was at the regionals and thought, 'Sh*t, I'd better start riding!'" admitted Tracey.
Horse & Hound, 21 February 2013
Regional Highlights South
by Celia Cadwallader
At East Soley, Berks (10 February), Tracey Lawson and the seven year old Gelderlander Alfero earned 72.9% and 70.88% wins from novice and elementary qualifier judge Linda Waller. "Its all thanks to Ali Cookson at the TTT (Training the Teachers of Tomorrow)", said Tracey. "Last May Linda pointed out that Alfie was crooked and gave us 66%. "Ali got us working on travers on a 20m circle, then changing to renvers to make it a figure of eight. This makes him step under and across with the hindleg that used to step out. Gradually he's become straighter and more supple."
Horse & Hound, 31 January 2013
Regional Highlights South
by Helen Triggs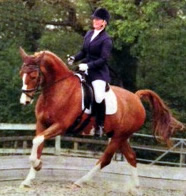 Despite snow and wind, Tracey Lawson and Alfero scored plus 68% to win both elementary classes at Snowball Farm, Bucks (14 January). The snow came down after they arrived, but Tracey decided that, as she was there, she might as well carry on. "He's had four rosettes in 48 hours" said Tracey, who won 2 classes at East Soley the previous day. "I had to hop off the second I'd done the tests today, as despite harrowing the arena, snow balled up in his feet and he was on stilts". The pair have had a break from competing for a few months. Tracey has been working on increasing the suppleness in his back and therefore gaining more straightness. It is obviously working as he achieved his first eights at this level. Judge Jo Black commented: "They are clearly a well established partnership and he's a lovely forward-thinking horse. The movements and transitions were well balanced".
Horse & Hound, 26 July 2012
Regional Highlights South
by Helen Triggs
Snowball Farm, Berks (16 July)
Tracey Lawson's Gelderlander Alfero may not have been built for dressage, but is turning into a rosette machine with many recent wins. They topped the elementary 44 on 69.2% and came second to Rose in the qualifier. "He was the softest he's ever been," enthused Tracey. "I still baby him a bit at home as he's weak, but I pushed him harder today and he was really elastic."
Horse & Hound, 3 May 2012
Regional Highlights South
by Helen Triggs
Snowball Farm, Berks (16 April)
Buying a lorry has made all the difference to Tracey Lawson and A New Day, who won both Novices on plus-70% scores. The six-year old Gelderlander was plagued by injury he inflicted on himself when travelling in a trailer. "The lorry has made a huge difference - he's able to relax at a competition now," explained Tracey. "Today was the first time he has produced what I know he is capable of in front of the judges. I train with Robert Pickles and he keeps up my confidence in myself and my Gelderlanders"
Horse & Hound, 9 February 2012
Regional Highlights South
by Helen Triggs
Snowball Farm, Berks (23 January)
Alfero, ridden by Tracey Lawson was also a double winner at his first show since recovering from a series of splints. Despite his troubles, the pair notched up plus 73% scores (see box, below). Tracey, a freelance instructor, trains with the Training the Teachers of Tomorrow Trust and Robert Pickles. "I've been waiting three years for him to go down the centre line," she said.
Horse & Hound, 9 February 2012
Back from the brink
'He had the longest healing splints ever'
Double novice winner Alfero [see Regional Highlights South report], was at his first affiliated show, after spending the past three years "off the road".
"He must have had the longest-healing splints ever", said owner-rider Tracey Lawson. "I bought him as a just backed three-year old. After having the summer off, he got his first splint so was turned away for a year. Then as soon as he started work, he got one on the other leg. He was only in light work last year and fortunately the splints are reabsorbing."
Tracey started working Alfero more seriously in the Autumn, as the ground got softer, and the competition was his first time without boots. "My vet wanted him worked so that he can take more weight behind and off his front legs. He's not really bred to sit but he's learning".
Tracey, who bought the Gelderlander hoping he will be the next Mr President, added "I couldn't afford a conventionally bred dressage horse, but he has lots of natural suspension".
Horse & Hound, 5 May 2011
Regional Highlights South
by Helen Triggs
Tracey Lawson's five year old Gelderlander gelding 'A New Day' scored 68.46% to win the Novice 36 at Snowball Farm, Bucks (18 April).
"He's got a lovely big trot and canter and is just starting to balance", said Tracey, who trains with the Training the Teachers of Tomorrow Trust (TTT).
Horse & Hound, 26 February 2009
Dressage reports: Oldencraig, Surrey – 12 February
by Celia Cadwallader
Annabel [Swain] on Weydmann Frej, won the elementary qualifier with 71.42%, earning praise from judge Mark Ruddock.
"The horse was supple and loose and produced a nine walk on a day when many were affected by the cold," he said.
Annabel, who trains with Tracey Lawson, has been successfully competing the 11-year-old, 17hh dark bay Danish warmblood for two years.
"I've been having treatment for my back, so I've not competed recently and needed to ride an elementary 57 in preparation for next week," explained Annabel. "'Frej' was a fruitcake in the outside warm-up, but relaxed indoors and focused on me."
Horse & Hound, 24 April 2008
Dressage reports: Oldencraig, Surrey – 14 April
by Celia Cadwallader
Two Southern British Young Riders Dressage Scheme (BYRDS) riders scored double advanced medium wins, with open rider Laura Swain on 70.88% and Mary Liversedge on 68.23% in the qualifier. Laura rode Persimmons' non-qualifier test in a thunderstorm that carpeted the arena with hailstones.
"I could hardly see the markers. At the end, the judge clapped us because we'd kept going," she said.
The 13-year-old dark bay by Prince Thatch has been with Laura since the beginning of June.
"His temperament is amazing but 17.1hh is quite a lot to ride and at first I found him hard to sit to," she said. "My trainer Tracey Lawson took us back to basics to get him to bring his hindlegs under and work through."
Horse & Hound, 3 January 2008
Dressage reports: Frensham Manor
by Celia Cadwallader
Annabel Swain, who won the novice qualifier with 69.66% on her nine-year-old 17hh Weydmann Frej, is more used to being in a supporting role to her daughter Laura, a former junior squad rider.
"We were in Denmark looking for a team horse for Laura and I saw Frej at Blue Hors Stud. They called him the yard donkey, because he was used as a nanny to the young horses, but I fell in love with him. He's a perfect mum's horse and a perfect gent," said Annabel.
"He's quite a powerful animal and I haven't got the strongest back, so I can't hold him with my seat as much as I would like. My trainer Tracey Lawson is trying to get me to ride him with a longer frame but still keep him engaged, which isn't easy for me."
Horse & Hound, 31 July 2003
Dressage reports: Merrist Wood Arena
By Sarah Mylne.
Freelance trainer Tracey Lawson and her Equilibria auction purchase, Napoly, continued their good form with a win in the elementary qualifier on 71%. In their four years together, Tracey and "Oly", a seven-year-old by Contango, have qualified for four national championships.
"Today, he produced his best test ever. I got off and burst into tears," says Tracey, who trains with Training the Teachers of Tomorrow Trust.
TTT Annual Newsletter 2002
National Championships
The Trust had a huge number of people who qualified for the Regional Championships at all levels up to Advanced Medium. However too many thirds and fourths at the Regionals resulted in very few members achieving the Nationals. We must congratulate Fiona Travers who qualified Icarus for the Prix St George and by all accounts performed a smashing test. Tracey Lawson was doing a beautiful Novice test at Stoneleigh when sadly an outburst of clapping for the disabled rider in the next door arena caused Ollie to get a little lit-up! Sadly Andrew Murphy was unable to travel to Stoneleigh as his lorry had been stolen.
Horse & Hound, 23 August 2001
Southern Regional Prelim Championship Report
The KBIS Insurance/Sheepgate Prelim saw Tracey Lawson retain her unbeaten record at this level with her Dutch Warmblood, Napoly.
Horse & Hound, 21 June 2001
National Winter Championship – Horsesense Saddlery Prelim Championship
JULIE Drumgoole and Hillside Royal Star headed this class with another score of more than 70%, making it a week to remember. Julie is trained by Brook Staples, who started Royal Star in her eventing career.
Second-placed Jane Sanders bought her ride Forima Masterclass last September after he came to her livery yard to be sold.
"I rode him for a week and that was it, I was hooked."
The six-year-old is by Medoc, who was also competing at the championships.
Tracey Lawson's Napoly, who finished third, was very much a chance buy at the 1999 Equilibria Sale.
"He was the last horse in and everyone was getting up to leave," explained Tracey. "I had seen him and liked him and the auctioneer was struggling to get a bid, so I ended up buying him. I didn't even have my cheque book with me and the auctioneer had to pay for him!"
Horse & Rider, November 1999
"Trainer of the Month"

Good trainers are worth their weight in gold. They give sound advice when everything seems to be going wrong and can help you and your horse achieve goals you never thought possible. Every month we feature some of the excellent trainers working in and around Britain.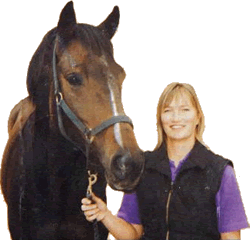 "When I first met Tracey Lawson, I had a rather stuffy Welsh Cob, and although I loved him to bits, we were not a match made in heaven. However, under Tracey's guidance we learnt to live with each other, although she was completely supportive when I decided it was time for him to find a more suitable home. "I now have a Trakehner mare who shows great promise, and Tracey is now helping us to become established, but taking it gently – as she says, the mare is my investment for the future and we want to get it right.
"My daughters also have lessons with Tracey. My eldest one is 16 years old and takes her riding very seriously. She always finds Tracey's lessons inspirational, plus there has been a dramatic improvement in her young horse, My youngest daughter, who is 10 years old, loves Tracey so much that she wants to be a riding instructor herself! She was recently a testament to Tracey's great teaching when she won a Best Rider class at a local show.
"Tracey always greets you with a cheery smile and a hello that make you feel there's nowhere else she'd rather be and no-one else she'd rather see. Not only is she a very skilled rider and very knowledgeable, she is also a great communicator, giving graphic descriptions to simplify otherwise difficult concepts.
"She is always sympathetic to the horse and quick to spot if things aren't quite right with the horse and will point you in the right direction for further investigation, if she feels it's necessary.
"She really makes lessons fun and interesting and will tailor her lessons to suit the rider – quite a task considering the range of ages and abilities that she has to teach. She gives you great confidence and her enthusiasm and bubbly personality are infectious, so you learn without really noticing it.
"Tracey always has lots of ideas so that lessons never become monotonous and she draws on her own experiences with top trainers (she continues her own training with teachers such as Charles de Kunffy at the TTT), generously passing their wisdom on to us. In fact, Tracey thinks she has the best job in the world – and it shows."