Testimonials from my clients...
Claire Edwards & "Bugsy"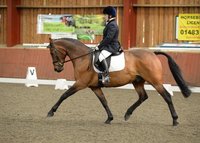 I started my journey with Tracey 4 years ago when I first bought Bugsy as a very green and bolshie 5 year old. Wow, we've both learnt so much. He would rather try to buck me off back then than go forward, particularly in canter and the canter transitions. Tracey is inspirational as an instructor and the In Hand techniques she has taught me, particularly the lunging half halt has been an invaluable tool as Bugsy can be a bit cold backed, so stretching properly before I mount really helps. She has also helped me to strengthen my core, which has really improved my elbow hand bit position (previously non existent). We have gone from intro in 2012 to BD Elementary and aiming for BD Medium by the end of 2016. THANK YOU Tracey, another 4 years full of inspirational lessons oozing with knowledge and laughter please!!
Margy Harvey & "Jester"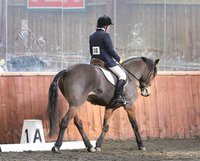 I first met Tracey about 18 months ago when I went to watch a friend of mine have a lesson with Tracey. I was so impressed and I wondered if she would come and give me a lesson (bearing in mind I am a very old OAP and my handsome New Forest pony is also an OAP although not quite as old as me). Anyway Tracey agreed to come and see us and try and help us with our dressage skills. A year later and we are having so much fun learning new things, every lesson is a joy and I can honestly say Tracey has given us so much confidence that sometimes Jester and I feel on a high and wish we could compete at a much higher level than we do. If only we had met Tracey 10 years ago!!
Eilean Appleton & "Shakira"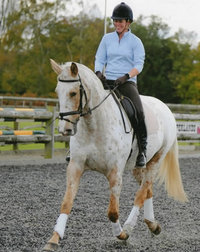 www.waynejonesphotography.com
I started training with Tracey 2 years ago, having been frustrated that I just couldn't seem to achieve the potential that I was sure my 7 year old mare Shakira had to offer. Tracey certainly had a challenge on her hands as Shakira's early years with me were spent in the hunting field; and while she was not short on impulsion, her understanding of the niceties of dressage were somewhat lacking. Our early forays into unaffiliated dressage were mediocre and our dressage scores at BE were towards the bottom half of the cut. Previous trainers had concentrated on Kira's lack of submission and although they could produce a tune out of her, I could not replicate it. Tracey was like a breath of fresh air! From the start she has concentrated on my riding rather than my mare's perceived shortcomings; she has taught me to feel, think and even breath in harmony with Kira; she has added in the biomechanics of horsepower and helped me to identify the 'invisible' language that our horses speak. The more I train with Tracey, the more I learn and the more I want to learn. We also have a lot of fun on the way; there is rarely a lesson without laughter! Our BE dressage scores are now firmly at the top end of the cut and I no longer feel that my ambition to one day take to the BD arena in top hat and tails is out of reach. Whatever level we manage to achieve in the competition arena, I am more happy that, with Tracey's help, we are performing to our full potential..........and enjoying ourselves along the way.
Hannah Bown & "Finn"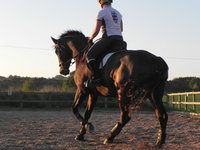 'Dressage is boring' – or so I thought before I met Tracey. The love of her job is evident and she has a fantastic ability to share her knowledge in a way everyone can understand. I knew I had a talented horse but I was unable to unlock his potential and had lost belief in him as well as myself. In the 8 months I have been training with Tracey we have progressed from producing average prelim results to gaining consistently high marks at novice level. We are now off for a summer of eventing (with hopefully improved dressage marks) before affiliating over the winter and possibly aiming for the regionals! With Tracey's enormous drive and support we have left the days of strolling round on our forehand in one gear and now engage the hind legs and 'dance'!
Gillian Hammond & "Cuddles"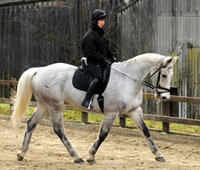 www.waynejonesphotography.com
I have been riding for a lot of years using BHS approved riding centres and attained my BHSAI qualification. I eventually got my own horse for my 40th Birthday 7 years ago.
I moved to a new yard in 2010 and was introduced to the lovely Miss Tracey Lawson. Until "Auntie Tracey" as we call her became my trainer I never really understood what other instructors meant by "feel" and only now understand that you can actually teach the art of feeling a movement - you just need a instructor who has the ability to read your expressions and get to know you and the horse. Tracey has done this with me and even in my later years I cannot believe what I have missed out on in the past by not getting it..
Cuddles and I really look forward to our lessons and every time we come away with the great feeling of achievement and always learn and most importantly dressage is now fun. We learn , understand and giggle all at the same time and our lessons are the highlight of the week. We even manage to achieve results on our own now and then progress with our training in our next session.
I never in my dreams expected to start competing and last year competed at ODE 80cm and this year moving to 90cm level. Our aim is to continue this year at this level and progress to doing more dressage test on their own.
Tracey is the best and we would not be where we are today in our training without her help.
Cathy, Emily and Alice Howard & "Inka"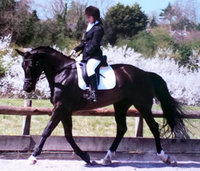 Tracey is an exceptional passionate trainer.
Her ability to assess the horse and rider together is incredible, and her attention to detail is amazing. I always finish my sessions feeling I have learnt so much and we always have some laughs along the way too!!!
Whatever your goal, experience or level of riding Tracey will always work to get the best from you and your horse.
Just over a year ago my daughters and I were lucky enough to find our super mare thanks to the help and support from Tracey, and in our first year of having her, achieved more than I expected. I was a late starter, buying my first horse at age 43, and am not the most confident rider, but with Tracey's help and encouragement, I am thoroughly enjoying my horse and competing and progressing in the fabulous sport of dressage.
Sue Wilson & "Eskimojo"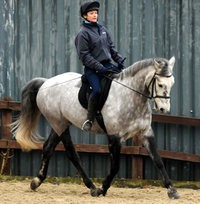 www.waynejonesphotography.com
I have been having lessons with Tracey for approx 2 years now and will never change to anyone else.
She always manages to find a way for us to achieve something positive in every session.
I started not being able to get Eski engaged enough to make simple turns and movements to now working on travers and half-pass.
My aim is simply to compete well at BE90 Eventing, Riding Club Novice and Prelim dressage level – anything above is a bonus!
We always have fun and all training is positive reinforcement which Eski responds so well to.
Samantha Brookes & "Archie"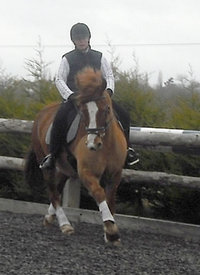 Well what can I say about the fabulous, talented, fun Tracey Lawson....I have been trained by her for over two years now and I can honestly say I have enjoyed every lesson/training session as she makes them varied, fun and most importantly...understandable! She helps from all viewpoints, on the ground and riding your horse to get a "real feel" – she has this amazing knack of being able to come up with a solution that works and gets the best work from the horse and rider.
I cannot repeat some of the colourful names and expressions we come up with for our body parts and movements we do, but she has everyone in fits of laughter. I also love watching and hearing about her progress with her own horses Alf & Delboy.
In the 6 months that I have owned Archie – she has brought out the very best in both of us and we are continuing to grow and achieve new heights every time I see her.
My aim is to affiliate BD this year and Tracey has given me the confidence that this is an achievable goal – I can honestly say, I would be lost without her to help and her guidance with my training.
Sue Caren & "Bailey"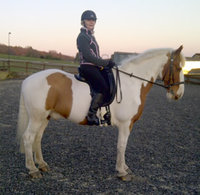 Having lessons with Tracey has been a life changing experience for me. When Tracey first started teaching me in June 2010, I really had lost my confidence. I had spent the last 3 years bring my horse back into work after a major injury and, looking back, I think I was at the point of giving up. Whilst I was happy to hack out, the thought of going in the school filled me with dread. No matter how many lessons I had, I kept hitting a brick wall and felt like I wasn't making any improvement at all and it was really getting to me.
I ended my first lesson with Tracey feeling like I had broken through a huger barrier. I actually "saw" my horse again for the first time and realised he could do more; in fact, we could do more if we had the right person to help us. And Tracey was, and is, that person. She talks to me in a language that I understand. If we don't get something right, we work on it. When Tracey thinks we are ready to try something new, we practise. We have so much fun in our lessons, which in turn helps us to both relax and achieve more.
Last week, I received the "Improver of the Week" award from Tracey. Oh my goodness – what a proud moment that was. I never would have dreamt that would be possible for us, but it was, and it has really boosted my confidence. We are still re-learning some of the basics, but it is exactly what we both need. We are on a journey, and actually, it's very exciting!
I look at my boy sometimes, when Tracey is riding him and can't believe he is mine – he looks so beautiful and relaxed and so proud of himself in terms of what he is now doing and it makes me feel quite emotional.
I love my lessons with Tracey. I feel that she has made me fall in love with my riding all over again.
Sheryl & "Bliksen"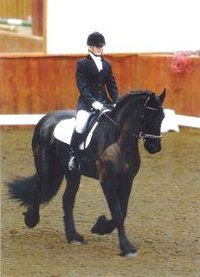 Bliksen and I have enjoyed regular lessons with Tracey since 2005 and have achieved more than I ever originally thought possible. Before meeting Tracey I was beginning to feel a little disillusioned and was struggling to understand why my young horse was proving to be such hard work to ride. Fortunately, after just a few lessons my riding and Bliksen's way of going improved and I began to feel that everything was finally starting to slot into place. Without Tracey's encouragement, motivation and infectious enthusiasm I don't think we would ever have got off the starting block! She has a wonderfully colourful way of explaining herself and is always happy to back this up with practical demonstration whenever needed.
I feel that she has helped me to both find and unlock Bliksen's talent and that her unique ability is in being able to get the best out of your horse no matter what its breed or temperament and no matter what level of riding you are at. I was a novice when it comes to competitions, but have now obtained the confidence to compete and am even beginning to build a modest collection of rosettes (including a handful of red ones!) and am now looking forward to affiliating. Bliksen and I have learnt a tremendous amount over the years and now have a wonderful strong partnership. Our lessons are challenging and rewarding, but above all... a real pleasure!
Kathy & "Monty"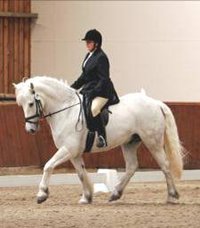 Tracey is always there when we need her with her enthusiasm and confidence for sorting out our "little" problems from backing to novice, & hopefully a lot further! She has helped me over many years even with my old boy helping from jumping to dressage. Monty loves to just hear her voice in the yard and he's ready for a bit of dancing and can't wait to add it to music in the future. We both love the classical approach to our work joined with the more modern thinking on the biomechanics of the horse and his wellbeing. Wonderful!
Mary & "Hector"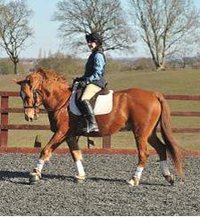 Tracey has been life changing for us. I started riding about 10 years ago, at the ripe (some might say over ripe) age of 50 and tripped over Tracey about a year ago. Me & Hector have made more progress over the last year than in the previous ten. We don't want to compete. We're not ambitious - except to ride and be as good as we can be. And Tracey has listened, & has given us both confidence. If Tracey says we can do it, I absolutely believe we will. This is what I asked Tracey for at our first lesson, and what she has delivered. And we have come further than I ever thought we could. And it is fun (. . . but not too much fun!). We love our lessons, and I truly recommend Tracey.
Claire & "Harvey"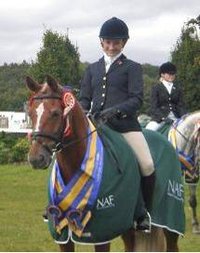 Harvey and I have had lessons with Tracey for 4 1/2 years. In that time we've made huge improvements and last year Tracey helped us to become BRC National Junior Dressage Champions. Lessons with Tracey are so much fun, but also lots of hard work too! She has high expectations and believes in us to succeed. She's really thrilled and excited when we achieve our personal goals.
Jo & "Maddi"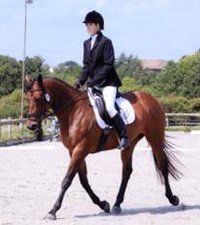 "She's a different horse!"
Before I had Tracey to teach me, my horse Maddi was stuck on her forehand, she ran through the bridle and didn't know how to put herself into a correct outline. Now, thanks to Tracey, she's learnt to sit onto her hocks, lift herself off her forehand into a more advanced outline, and is currently working in a double bridle - something I never thought we would ever achieve. My mares paces have improved dramatically as well, which is having a major impact on the scores we now receive in our dressage tests. We're going from strength to strength, it's amazing. Switching to having lessons with Tracey is one of the best things I have ever done.
Annie & "Mercury"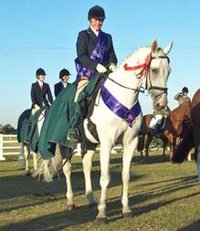 Tracey has been an instructor at Elstead Riding Club for many years. Her fun but effective training style is suitable for all ages and abilities. Mercury was not bred for dressage, but through Tracey's encouragement and support Mercury and I have achieved success at BD Regionals, Riding Club Nationals and London and South East championships.
Di & "Zorba"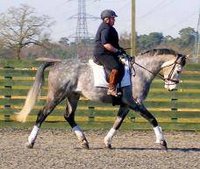 Although I had been riding for years my interests had always been with jumping and eventing. In the past 5 years Tracey has been teaching me Dressage and because the lessons have been such fun I really got the Dressage Bug! Tracey has helped train me on my very beautiful but average horses (one of which was bought from Reading market for £800 and has been trained up to Affiliated Medium!) Tracey approaches all her lessons with enthusiasm and trains all her clients and horses as if they were Grand Prix potentials! I have also represented both the Central region at the BD Inter-Regionals and England at the BD Home Internationals. Tracey has also introduced me to the TTT and I have achieved selection onto the International Clinics in the past 2 years.
Sarah & "Red"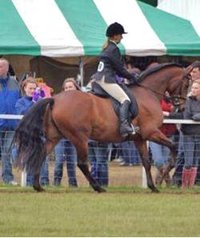 Tracey has been my trainer for nearly 6 years now and I would never want to be without her. She has worked miracles on both me and Red. We have started from scratch and she is taking me up the levels with the aim of competing at Prix St George sometime in the very near future and I can't wait. I love my lessons. They re energise me and they are always such fun. I have loads of new things to learn and practice in readiness for my next lesson and progression up the dressage ladder. Tracey has not just helped me with my riding but also with my lunging and in hand work. I love watching the way she interacts with the horse; it is magical and she has a very special gift. Tracey has given me so much confidence and without her I would never have taken Red to compete at Royal Windsor Horse Show last year; it was a fantastic experience.
Tracey is my hero and I would have given up years ago if it wasn't for her.